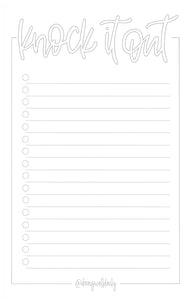 One of our most beloved products, the Knock It Out Pad, is an excellent accompaniment to our Daybooks but can also be equally valuable + joyful when used on its own! (Fun fact: our founder, Syd has one of these with her at all times - mom brain is REAL!)  
Boost your productivity while having the momentum of checking items off your list with the Knock It Out Pad! 
It doesn't matter if you're busy in the home, WFH or work full-time at the office… the Knock It Out pad is an excellent accessory for the home AND office! 
All About The Knock It Out Pad: 
4.5 x 8.5 inches 

50 sheets of 70lbs white paper 

Traceable light-grey detailing 
The Knock It Out Pad makes a FABULOUS gift for anyone craving some organization in their home or office and also makes a great gift for coworkers and office managers! 
Get creative & make it happen every day! It's time to Knock It Out! 
OBSESSED WITH THESE PADS!
Finally! A cute way to stay organized! I love making to-do lists, but I usually tend to write them on random pieces of paper or note pads that I snag for free from my bank (so not cute). These Knock it Out pads are awesome because they are pretty to look at, traceable and big enough to write down all your 'to-do's' for the day (or even the week)! I feel way more accomplished when I can color in a little check mark too next to each task. Thank you SYD! XX