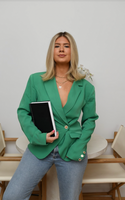 ON SALE NOW 'In The City'
For the powerful woman who isn't afraid to make moves.
Doing Well Daily & Danielle Carolan are excited to bring you the jet black, luxurious new daybook, In The City. Featuring a sleek, matte black cover with glossy foil detailing, this daybook is a showstopper!
Shop now
Let's get real for a minute.
How many times have you picked up yet another planner to get organized + achieve your goals, only to give up after a few days when you find the format rigid beyond BELIEF? Or decided, "hey, bullet journaling looks like a cute hobby!"  
Be honest… how many of these planners and journals do you buy with the best intentions, only for them to end up collecting dust?… Or how many more times can you say, "it makes a great coaster…" 
Hell no! It's time for something you're going to use each and every day to improve your life and mindfulness … not something that's just gonna add to the overwhelm. Because let me tell you something - the reason that all those planners fell to the wayside has nothing to do with you... that planner really wasn't all that + a bag of chips like you expected it to be. 
It wasn't made for YOU. Because you're made for MORE. 
It's time to wave goodbye to the traditional journals and planners on the market. It's time to make way for the Daybook…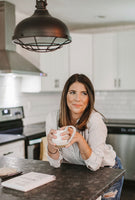 Hey Pretty! I'm Syd
I created Doing Well Daily and our Daybook because I'm passionate about you living your best day every single day. 

I do what I do because my creative passions of calligraphy and lettering literally transformed my life. Here's the thing, in 2nd grade, I was diagnosed with moderate to severe dyslexia - meaning I read, write and process things backwards. I was also diagnosed with A.D.D., which meant I was easily distracted, disorganized and forgetful. Lettering and calligraphy are how I discovered my gift and passion for art + creativity. However, planning + organization was still a constant struggle for me. Finding a planner or journal that worked for me was never possible…
until I created it.
And I'm far from the only one! Here's what Doing Well Daily fans have to say:
Best Investment!

Syd's daybook has changed the game for me when it comes to daily planning! I recieved one for my birthday and ever since then, it is how i start each day. I am a very visual person so seeing a plan of each day, as well as being able to track my water consumption & physical activity have been the best for my health. 100% recommend for anyone that wants to get more on top of their daily habits & to-dos, as well as become more organized.

Sophie
Such Good Quality!!

The pages of these journal is such high quality that it makes your pens glide across the page. I love this daily journal to start my day on a positive note and give me motivation for what's to come.

Gabby
Amazing and Thankful!

I'm so glad I purchased this journal created by Syd! This journal has helped me become more grounded and grateful. It also has helped me manage and ease my anxiety in the mornings to have a better start to my day with my cup of tea. If you're thinking of purchasing this journal, do it!

Laney
I'm OBSESSED with this planner!!

I have been so much motivated and productive with this planner!! I love how there's no pressure to use it everyday and no pages go to waste! It has made me look forward to tackle each day and whatever it may hold! I cannot recommend this planner enough and can't wait to see the Doing Well Daily business continue to THRIVE!

Taylor
more than just a planner!!!

i bought the daybook towards the middle of the summer when i was worried about getting stuck in a rut. i was constantly unmotivated because i had the same routine everyday and couldn't do much! this planner changed my life and now it gives me something to look forward to each morning. as a college student, it helps me stay organized and on-task. i couldn't reccommend anything more!!

Remi
Game Changer

I'm constantly moving a mile a minute and rarely take time to self reflect. The daybook holds me accountable for the "me time" I need. Every morning I look forward to writing in it, while sipping my coffee and just taking time to slow down. I've incorporated it into my daily routine and will never go back. It's the best purchase I've made for myself in a long time and can't recommend it enough! I'm so grateful for Syd and doingwelldaily!

Amanda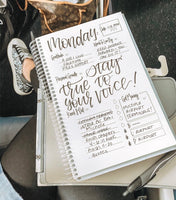 THE OUTCOMES
I speak from personal experience when I say that by adding the Doing Well Daybook to your routine, you can expect…
- To feel organized for the day ahead + ready to conquer the world 
- An increased sense of peace + relaxation 
- A sense of accomplishment each and every day
- An increased sense of intentionality so you can...
Do Well Daily
snag your copy
I want to see how YOU make it your own!
Come say hi and make sure you tag me @doingwelldaily when you share your Doing Well Daily daybook!
Interested in wholesale?
LET'S CHAT!
At Doing Well Daily Co. we are always looking for new & local businesses to partner with! We have even created the simplest wholesale catalog for easy ordering and fulfillment.
Shoot an email to syd@doingwelldaily.com for access to our online wholesale catalog!