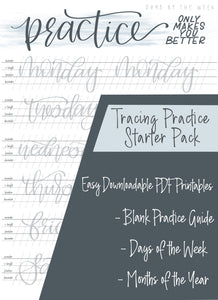 Practice only makes you better. Especially when it comes to calligraphy… it's how we ALL get started! 
The best way to begin? This downloadable digital guide allows you to practice your days of the week and months of the year. 
This digital product includes a downloadable PDF printable pack that you can print out as many times as you desire to practice your own calligraphy! 
Inside This Calligraphy Practice Starter Pack: 
Downloadable PDF printables: 
Blank Practice Guide 
Days of the Week 
Months of the Year 
This is a digital product, meaning no shipping is required! Simply purchase, and you can get started with your practice RIGHT away. 
Need a pen to go along with it? Check out our favorite brush pen!